Sign-Lighting: How
Many Lights Do I Need?
Choosing Lights, Bulbs and Spacing
You just constructed a new store sign and you're ready to light it up during the nighttime hours. The question is, how many lights do you need, what kind, and how far apart do you place them? These are all very common questions. So, we hope to shed some light on all of them so you can rest peacefully knowing you have a professional lighting setup for your business sign-lighting!
The most common fixture used for sign-lighting that's in our arsenal is the Venice with a gooseneck arm. The longer the gooseneck, the more spread you have on the sign. So, you can pick between an 11", 16", 23" or an Upward Sloping gooseneck. Generally, we've seen the 23" work best. However, this also depends on how far above the sign you mount the fixture. We recommend 12"-24" above.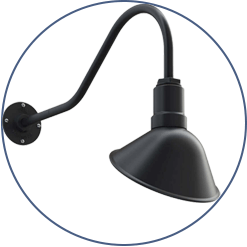 Steps to Selecting Sign Lighting
Choose a Fixture
There are many light fixtures out there to choose from. With that said, it's our recommendation that you select one that points back at the wall it's mounted on at an angle. We purposefully built the Venice around this concept so that you get direct light spread on the surface below the light.
Select Your Bulbs
Light bulbs used to be pretty simple. Now, there are a million to choose from! The most important thing to understand about modern LED bulbs are the color temperature and the Lumens. The higher the temperature, the colder (or bluer) the light will be. The lower the temperature, the warmer (or more yellow) the light will be. The higher the lumens, the more bright the light will be. So, specifically for sign lighting, it'd be safe to choose a higher temperature for a "colder" color and a relatively high lumen output, like 1200-1500 lumens.
Plan Correct Spacing
Spacing plays a big role in light spread. It's our recommendation that you place the fixtures between 3-5 feet from each other in a row. If you choose a longer gooseneck, you're safer with going with 5 feet. However, if you choose a smaller gooseneck, it'll have less light spread and you'll need to go closer to 3 feet.
An example of the Gardena fixture on custom goosenecks used for dispersed sign-lighting
Dusk to Dawn Sensors
Another feature worth adding is a Dusk to Dawn sensor. These sensors come built-in to the fixtures and allow the light to automatically turn on during low-light conditions, then turn off again once the sun is up. These help save time, money and energy and turn your sign-lighting on auto-pilot.

Handcrafted Steel Lights, Made in America
I hope you were able to learn a lot from this article and that it's helped to guide your sign-lighting purchase. If you want to use our lights for your store sign, you can use the link below to go straight to the Venice wall-fixture product page. You can find all of the gooseneck options and LED bulb selection there, too!